Panther D(Pz V Ausf D)
Edit
Specifications
Edit
Primary armament: 75 mm cannon, 79 rounds
Secondary armament: 7.92mm machine gun, 5,100 rounds
Maximum speed: 46 kmh
Frontal armor value: 97
Side armor value: 47
Rear armor value: 58
Top armor value: 23
Primary weapon damage: 88
Primary weapon penetration value: 127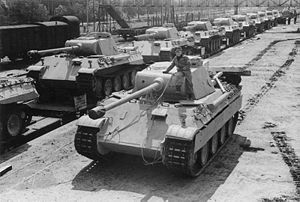 This is a wonderful piece of equipment, but it is availible at the same time as the Tiger. While in real life, the merits of these two tanks could be debatable, the Tiger should be used in lieu of this tank. It has about the same power on the battlefield as the T-34-85.
Panther G (Pz V Ausf G)
Edit
Specifications
Edit
Primary armament: 75 mm cannon, 82 rounds
Secondary armament: 2x 7.92 mm machine gun, 4,800 rounds
Maximum speed: 46 kmh
Frontal armor value: 127
Side armor value: 47
Rear armor value: 58
Top armor value: 23
Primary weapon damage: 88
Primary weapon penetration value: 127
This has the same values as the Ausf D, with thicker frontal armor. It appears in the same chapter as the King Tiger, and should not be part of the Core Units. Should one wish to use it, ensure that the front is always facing the enemy as it is quite lightly armored on the sides. If outnumbered, reverse with the front still facing the enemy using a series of shift-locations so that the AI knows you wish to keep the frontal armor facing the enemy, otherwise it'll turn the unit around be destroyed easily.
At its introduction onto the battlefield, it is almost impenetrable (starting 88 armor value, followed by 127 with the G. version) from the front when it encounters most Russian units. The best way to defeat it (one Ausf G. tank) with Russian tank units at the beginning is to send some expendable armored cars to distract one, and having a core, preferably elite T-34 tank race ahead and flank it from the side (assuming no other enemy fortifications on that flank) since it has weak side armor. If one had several SU-122s on hand, use a squad/sniper to scout out its position, and then call in support fire from the SU-122 group. Do use the "fire-and-scoot" technique as the German Hummels and Wespe self-propelled artillery (SPG) units can counter-fire on your location.